Quality characteristics of top quality pasta
High cooking stability
Jeremias noodles are stable when cooked, have bite, are al dente and do not stick together.
Long stability
They withstand long periods of standing without sticking and can therefore be pre-cooked several hours before serving.
Heating or regenerating is possible without any problems by briefly immersing in boiling water or in the combi-steamer. Jeremias noodles remain firm to the bite and are also ideal for Cook & Chill.


Taste / smell
The taste is robust and aromatic. The smell is fresh and appetizing.
Golden yellow colour
Jeremias noodles are golden yellow - even those without egg. Held against the light, they are brilliantly transparent.
Yield
Jeremias Noodles have an above-average swelling factor due to their high quality raw materials, which means that Jeremias Noodles can absorb a lot of water during cooking and still remain firm to the bite. From 100 g of dry goods, this results in up to 300 g of ready cooked noodles.
Clean cooking water
The cooking water remains clean and clear with little sediment, because Jeremias pasta hardly loses any starch or protein when cooked.
Consistent quality
With Jeremias pasta you can be sure to always get the same high quality and therefore the same cooking characteristics.
The higher the egg content, the better these properties and the cooking firmness!

The Jeremias noodle is suitable for all regeneration processes in canteen kitchens and restaurants.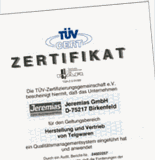 TÜV certification
In September 1996 we were awarded the DIN EN ISO 9002 certificate for the first time.