Like last September, we would like to inform you about our help with the aid delivery "Flight for Life - Aviation without Borders sends typhoon victims in the Philippines Jumbo Aid" of the relief organisation Luftfahrt ohne Grenzen e.V. Jeremias Teigwaren has been supporting the relief organisation Luftfahrt ohne Grenzen e.V. for years and has also provided 20 pallets of his noodle specialities at a very reasonable price for this aid delivery. The more than 7 tons of Makkronelli were picked up on 28 November and contribute a part to the basic supply of the Syrian refugees.
On December 2, the relief organization Luftfahrt ohne Grenzen (LOG)/Wings of Help will send around 100 tons of relief supplies on the largest relief flight ever from Germany to the victims of the typhoon catastrophe in the Philippines. On board the jumbo jet will be urgently needed medical supplies, water treatment powder for 40 million liters, food, baby food, clothing, survival kits with tents, stoves, staple foods, kitchen sets and hygiene items. The relief flight under the motto "Flight for Life/Flight for Life" came about with the support of the German government, the Frankfurt airport company Fraport AG, the Deutsche Bahn Foundation, Schenker Deutschland AG, the airline Cathay Pacific and many other companies, as well as with private donations. In the disaster area, the LOG partner International Medical Corps, which has proven itself in many disaster missions, is responsible for distributing the goods.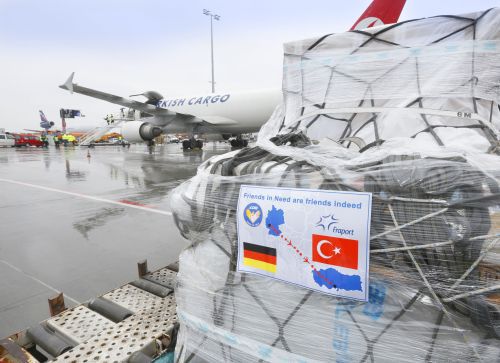 Against the cold - help for Syrian refugees on the Turkish-Syrian border

The pasta factory Jeremias will also provide 20 pallets of its noodle specialities for the relief action under the motto "Against the cold" in favour of Syrian refugees at the Turkish-Syrian border. 7-10 trucks with relief goods will be sent on their way to Turkey in December. As already in September, on the occasion of the last action, one counts also for the coming aid delivery again on a large press interest in Germany and Turkey, in order to be able to make so still further attentive on the desolate situation of the Syrians.